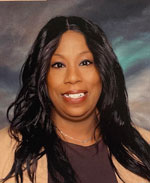 It is my pleasure to welcome you to Holy Name of Jesus School! Since 1924 we have served the families of the Jefferson Park, the Baldwin Hills/Crenshaw area, and its surrounding communities.  We have a long-standing tradition of Catholic identity,  faith and service throughout Greater Los Angeles.  We pride ourselves in providing a nourishing yet academically rigorous program that prepares our students to excel beyond their years here at Holy Name of Jesus School.  
At Holy Name of Jesus School we see each child as a unique and individual gift from God.  We recognize that each child's learning is also unique.  To this end, we seek to implement multiple learning strategies so that the needs of each of our scholars is met.  We work to meet students where they are academically, spiritually, socially and  emotionally using data driven methods to improve not only student learning, but the whole child.  
Guided by our love of Christ, our mission is to empower our students to be versatile, productive global leaders in a technologically advanced society. Our vision is for our school to be a culturally diverse, inclusive Catholic Christian learning institution that cultivates, shapes and enriches this generation, as well as the next generation of learners. We are blessed with the support of our pastor, Father Kenneth Ugwu, our parish community, and our HNOJ alumni.
Holy Name of Jesus School is accredited through the Western Association of Schools and Colleges (WASC) and our graduates are accepted at some of Los Angeles top-ranked high schools.  Join us in our mission to help change the world one student at a time.
Blessings,
Mrs. Marilyn Ross Cedeno, JD
Principal, Holy Name of Jesus School