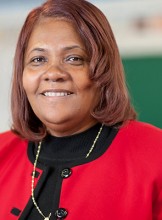 It is with great pleasure, as Principal of Holy Name of Jesus School, to welcome you to our official website. This website has been prepared to be a valuable source of school news and timely information for parents, students, and visitors. We want to enable everyone to become familiar with the policies and other procedures that are basic for the smooth functioning of our school. 
Holy Name of Jesus School has a very long tradition of providing a safe and secure learning environment, while at the same time offering a wide array of exciting and challenging academic and extra-curricular programs.
My greatest initiative is to provide the leadership that will facilitate a school environment with exceptional education that includes technology differentiated instruction and character education to meet the needs of each student and foster good citizenship.
Our staff takes great pride and are committed to establishing a school environment that allows our students to flourish and to grow intellectually, emotionally, and socially.
Parents, teachers, support staff, and administration all have an important role to encourage our children to become active learners. It is my sincere desire to provide expanded opportunities for our students to acquire the skills to become productive citizens in a vastly changing society.
Through a close and collegial partnership with everyone associated with Holy Name, I am confident we can make our school an even a better place for our students to learn and grow.
Marva Belisle
Principal